Imate vodo in nekaj preprostih pripomočkov? Potem lahko en, dva, tri pripravite kar nekaj aktivnosti, ob katerih se bodo vaši otroci zabavali
Naj bo slabo vreme ali karantena. Če ste z otroki v hiši, lahko stanje hitro postane neznosno, če nima vsak svoje zaposlitve. A kaj, ko je tako težko pritegniti pozornost otrok za dlje časa, risanke pa tudi niso primerna rešitev.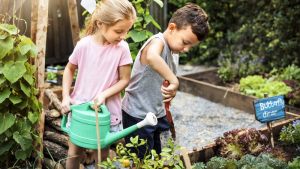 Preberite še:
5 domiselnih načinov, kako zaposliti otroke
Zbrali smo nekaj aktivnosti, pri katerih potrebujete povsem osnovne pripomočke in jih skoraj zagotovo imate doma. Otroci pa bodo nad njimi navdušeni.
Vodna postaja
Potrebujete malo večjo plastično posodo, pod katero pogrnete večji prt, vanjo pa zložite kozarce in posodice različnih oblik. V nekatere nalijete vodo, ki ji lahko po želji dodate nekaj jedilne barve. Še bolj zabavno bo, če bo barv več. Nato pa naj se prelivanje začne.
Lego kopel
Kopanje je odlična rešitev takrat, ko se nam zdi, da se čas nikamor ne premakne. V vodo dodajte lego kocke duplo in tako bo vaš otrok užival v čofotanju in sestavljanju hkrati.
Ustvarjalna postaja
Potrebujete škatlo iz kartona in najrazličnejši papir za reciklažo. Lahko je to reklamni papir, že uporabljen papir za zavijanje, … Otrokom potem (glede na starost) ponudite še škarje, lepilo, flomastre in ostale pripomočke, za katere veste, da jih lahko varno uporabljajo in naj začnejo ustvarjati svojo posebno škatlo.
Igra z ledom
Pred začetkom te aktivnost morate seveda pripraviti dovolj ledu v zamrzovalniku. Potem pa potrebujete samo še dve posodi in zajemalko. V eno posodo nalijete vodo, v drugo stresete ledene kocke.
Penasta pekarna
Imate doma tekoče milo in nekaj pripomočkov za peko? Potem imate vse, kar potrebujete za super zabavno aktivnost. In naj vas ne skrbi, če nekaj pene pade na tla. Saj je samo milo.
Lovimo jabolka
Potrebujete veliko plastično posodo, ki jo napolnite z vodo in notri stresete jabolka. Če nimate jabolk lahko uporabite tudi limone ali karkoli drugega okroglega, kar se lahko zmoči. Zraven postavite pekač za muffine in otroka opremite s kleščami za žar. Med lovljenjem sadja in zlaganjem v pekač se boste zabavali vsi. Lahko pa priredite tudi tekmovanje. Kdo bo v najkrajšem času zložil vsa jabolka v pekač?
Iščemo pare
Iskanje parov je enkratna izobraževalna aktivnost za vašega malčka. Zlaganje nogavic za vas morda ni ravno zabavno opravilo, zato lahko to namesto vas opravi otrok. Z lepilnim trakom na tleh naredite mrežo in v vsak kvadrat po eno nogavico.
Napišimo pismo
Marsikdo že zelo dolgo ni videl starih staršev ali obiskal prijateljev. Pošljimo jim pismo. Otrok naj nariše risbo za določeno osebo (lahko tudi več), potem pa ga vprašajte, kaj bi mu želel sporočiti. Njegov citat zapišite na papir, ga dajte v ovojnico in shranite. Verjemite mi, ko boste to pismo prebrali čez nekaj let, vas bo zagotovo spravilo v dobro voljo.
Kopel za igračo
Vodne aktivnosti so vedno še posebej zabavne. Naj otrok okopa dojenčka lutko v peneči kopeli in ga pripravi za spanje.
Prispevek je nastal po izvirniku, ki ga je objavila ameriška izdaja Aleteie. Prevedla in priredila Barbara Oprčkal.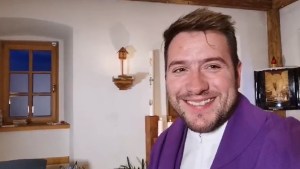 Preberite še:
Martin Golob v karanteni zasut s pismi, prispejo tudi kisle kumarice in marmelada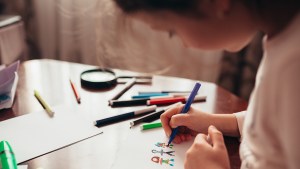 Preberite še:
Zakaj je risanje zelo primeren konjiček za obdobje karantene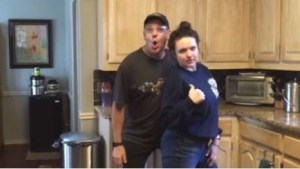 Preberite še:
Video očeta in hčerke iz karantene, ki vas ne bo pustil ravnodušnih